Printable Cash Envelope Templates to Help You Organize Your Money
This post may contain affiliate links. As an Amazon Associate, I earn from qualifying purchases. Please read my disclosure policy for more info.
Are you looking for printable cash envelopes templates?
If yes, then you've landed at the right place.
In this article, I am sharing a collection of my favorite printable cash envelope templates.
These templates are perfect for saving money, organizing bills, keeping track of expenses, and reaching any financial goal.
Stress less & save more!
This FREE budget guide will help you create a budget that works for you!
What Is the Cash Envelope Method?
The cash envelope budgeting system is a method for managing your expenses.
It was made popular by Dave Ramsey's book, Financial Peace. But even if you've never read it or don't follow his guidance, the cash budget envelope system may be the perfect solution for your financial journey.
This budgeting system helps you keep track of your monthly expenses and then allocate those funds into different spending categories such as food, entertainment, etc.
Once you know how much you spend per budget category, you can decide which ones you want to cut back on.
How Do I Use Cash Envelopes?
Cash budget envelopes are a great resource to categorize your expenses in a way that prevents overspending.
Create and fill your envelopes
You'll want to create an envelope for each type of expense or category of expenses you regularly pay.
After creating your cash envelope categories, you'll add some funds based on your previous spending or by making an educated guess.
Once you've been budgeting for a couple of months, you should be able to fine-tune your cash envelope categories and the amounts you put in them.
Use your cash envelopes when you spend
When spending using cash envelopes, you withdraw the amount spent from each envelope. If your cash envelope has a tracker, you'll make a note of each expense on the envelope itself or a budget sheet inside.
Once you've spent all that is in an envelope, you can't spend anymore.
You DO have the option to move money from one envelope to another to cover any underbudgeted categories, but typically once the cash in an envelope is gone, you have to wait until you get paid again to replenish it.
What Are Some Common Categories of Cash Envelopes?
You can create envelopes for any budget category you want, but it may be easier to start with broad categories so you don't overwhelm yourself.
Then you can add in envelopes as you find the need for any more nuanced budgeting category.
Here are some basic cash envelope categories you can start with:
Food and Grocery Envelope – this includes groceries, restaurant meals, fast food purchases, etc.
Entertainment – movies, sporting events, concerts, etc.
Transportation – gas, car repairs, parking fees, tolls, etc.
Home – utilities, home maintenance, furniture, decorating, etc.
Clothing Envelope – clothing, shoes, accessories, etc.
Healthcare – doctor visits, prescriptions, dental care, etc.
Household supplies – cleaning products, toiletries, etc.
Savings/Sinking Funds – gifts, holidays, infrequent bills, vacations, etc.
Also, consider having a miscellaneous envelope for things like pet care, charitable donations, gift cards for online spending, etc.
How to Use Cash Envelopes to Control Impulse Shopping
There are a number of reasons you may not want to switch your entire monthly budget over to cash.
But if you have any trouble categories you frequently overspend in, using cash money envelopes can help you prevent impulse purchases.
Even the most disciplined person can get carried away with spending on a debit card or credit card.
Making the switch to cash for the spending categories that tend to wreck your budget can help you create better and more intentional spending habits.
Downloadable Cash Envelope Templates
You can use any envelopes for budgeting – from your simple everyday white envelope to DIY envelopes using printable designs. Below are some of my favorite printable cash envelopes.
Horizontal Cash Envelope Template
Prefer to keep your cash in a horizontal envelope? Here are some great options.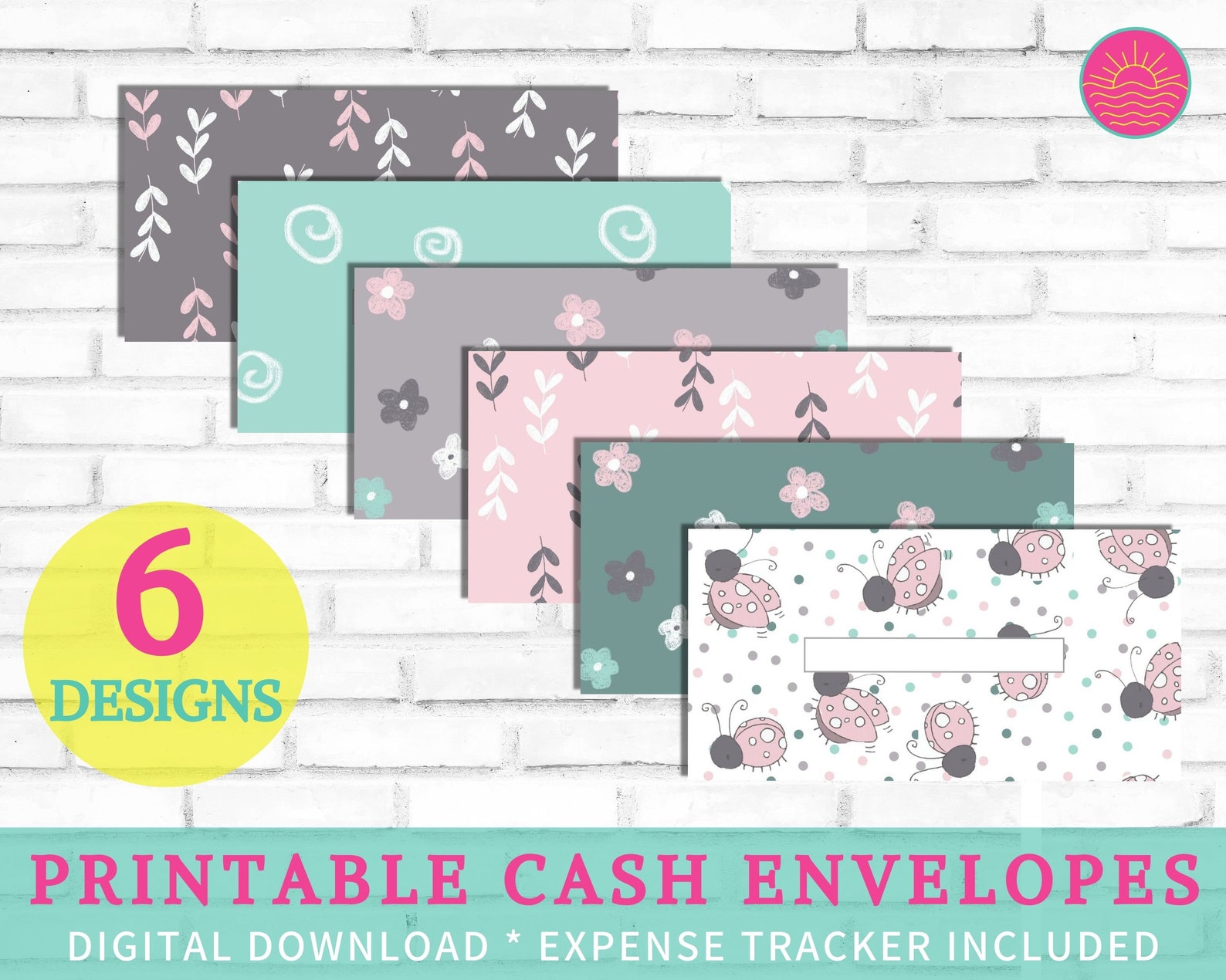 Cute Nature Drawing Printable Cash Envelopes by SunnyPlanPrintables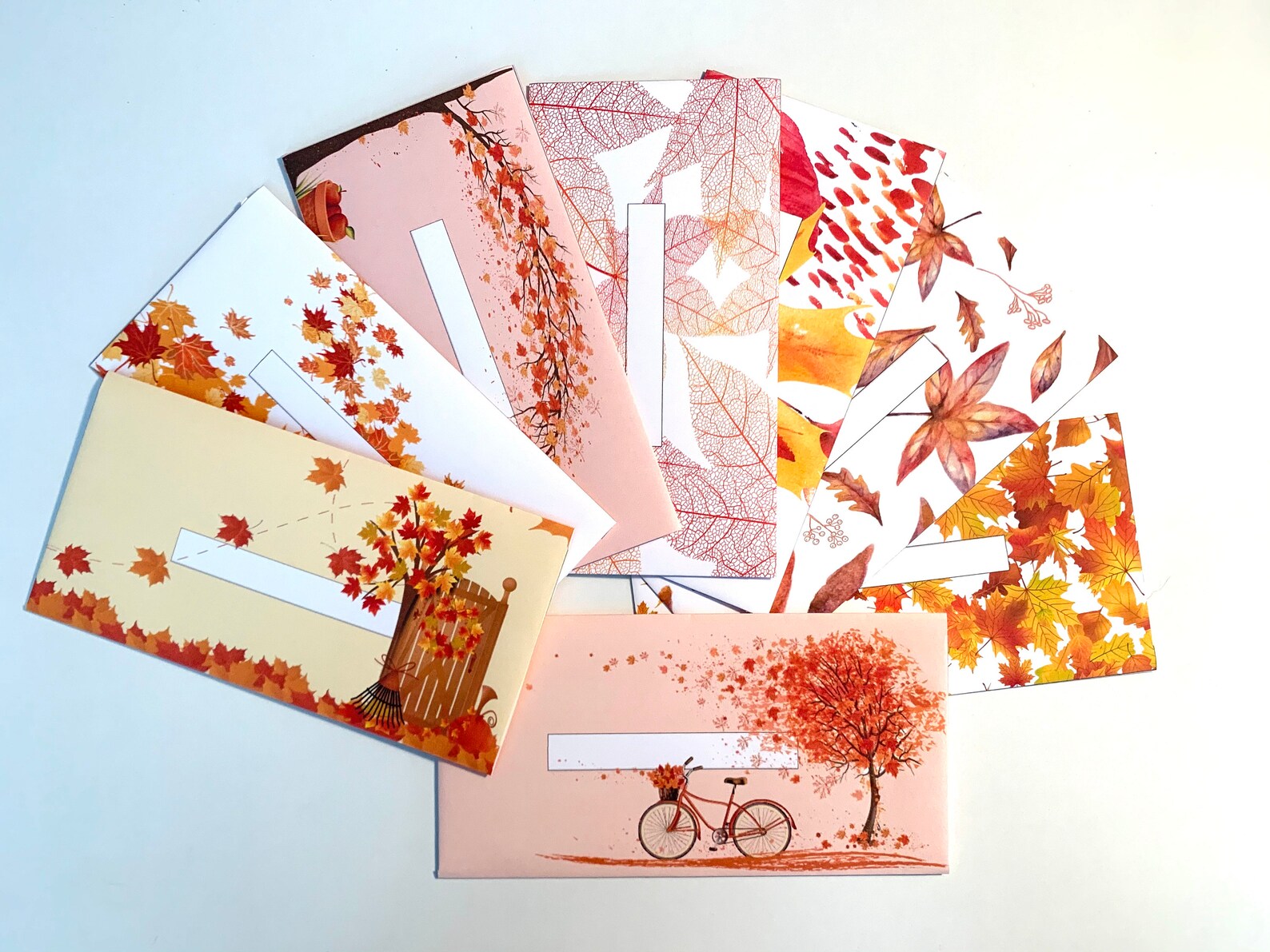 Autumn Themes Printable Horizontal Cash Envelopes by JCPbudgetprintables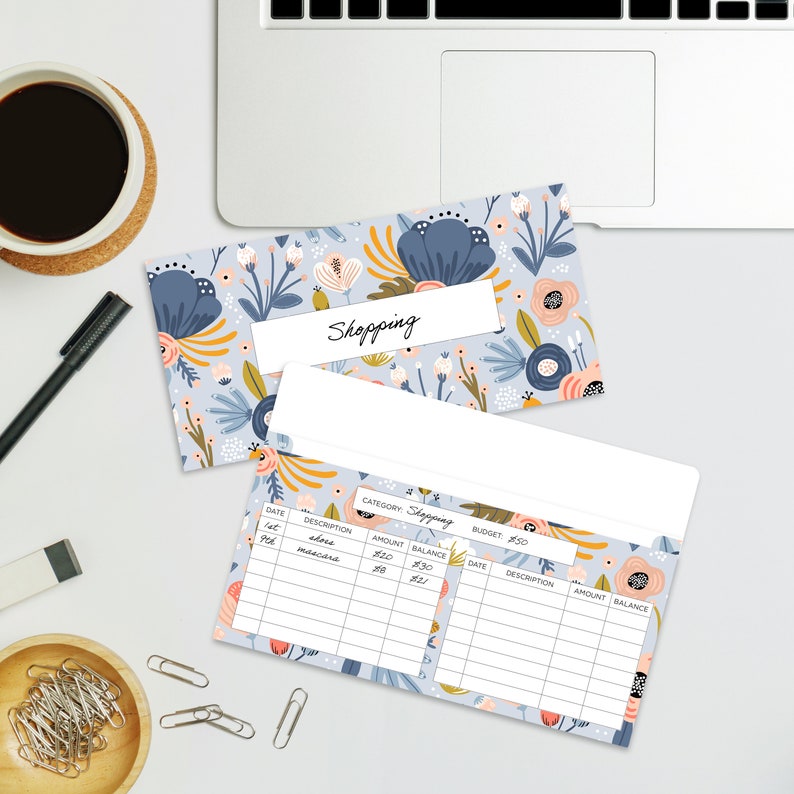 Printable Floral Cash Envelopes by PeridotPrintCo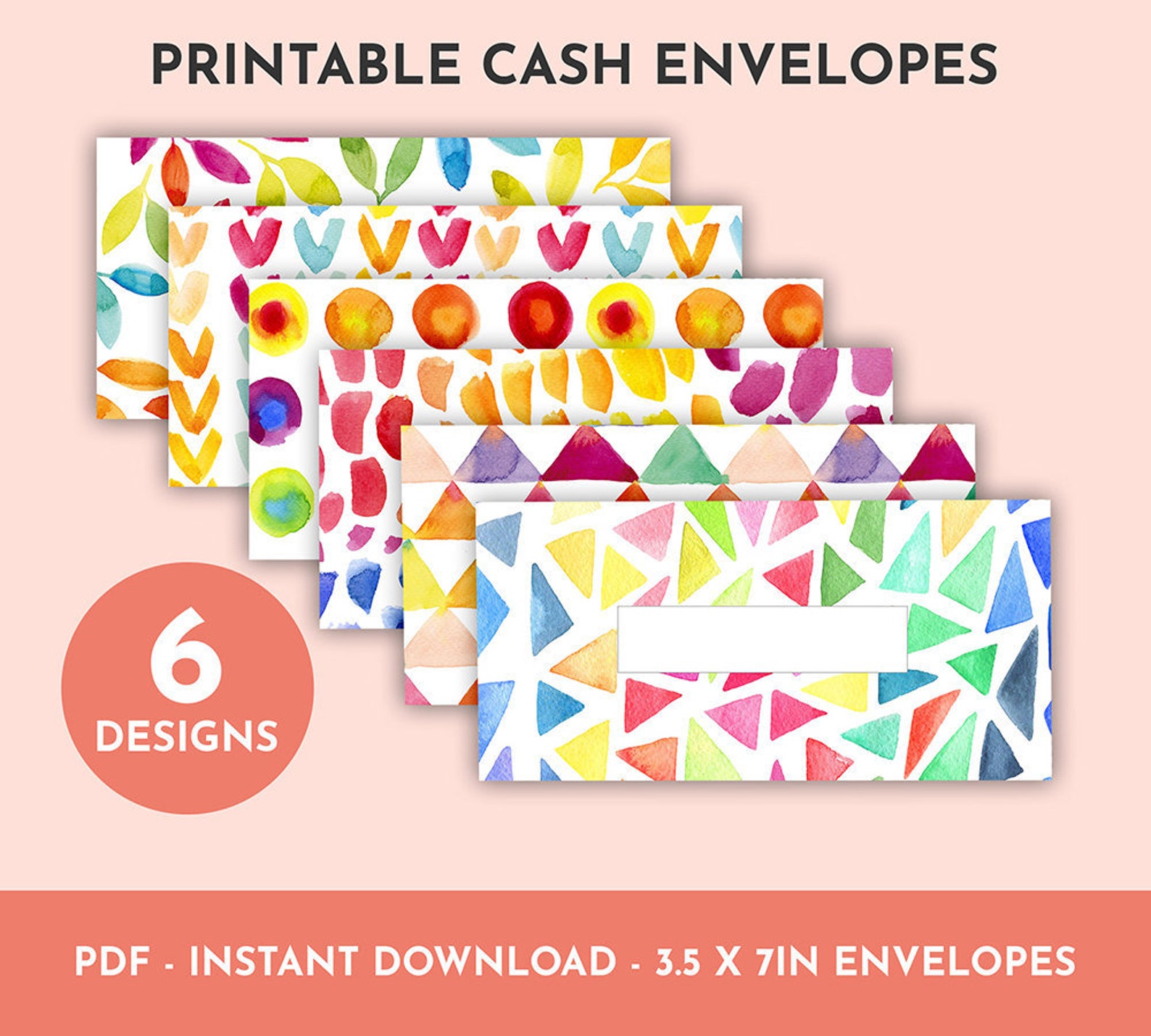 Watercolor Rainbow Printable Cash Envelopes with Transaction Tracker by Arvabelle
Mandala Cash Envelopes Printables by NiftyPlannerDesign
Vertical Cash Envelope Template
If you'd rather use a vertical envelope for your cash, these picks are the perfect solution.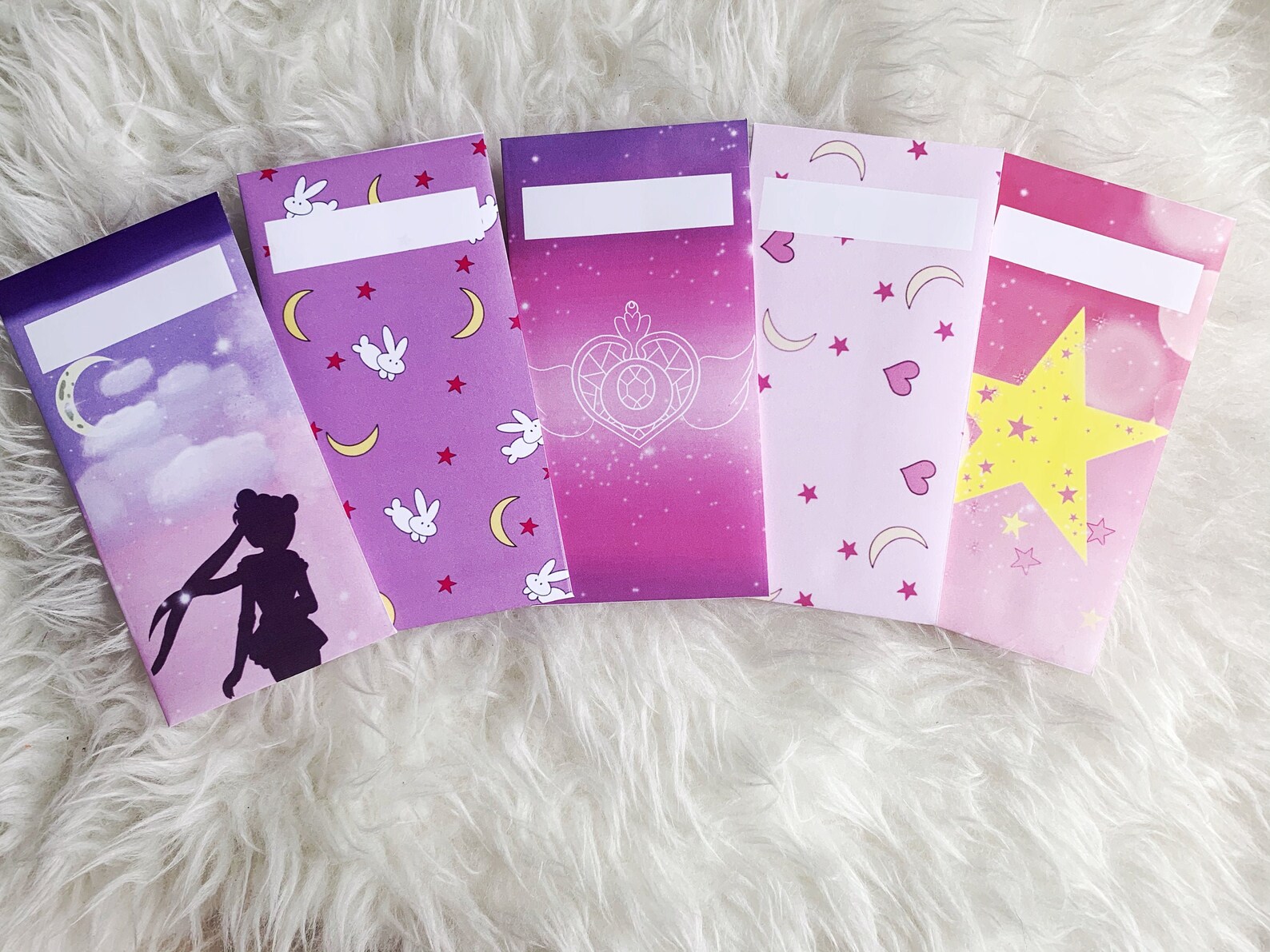 Printable Vertical Anime Cash Envelopes by MillennialonaBudget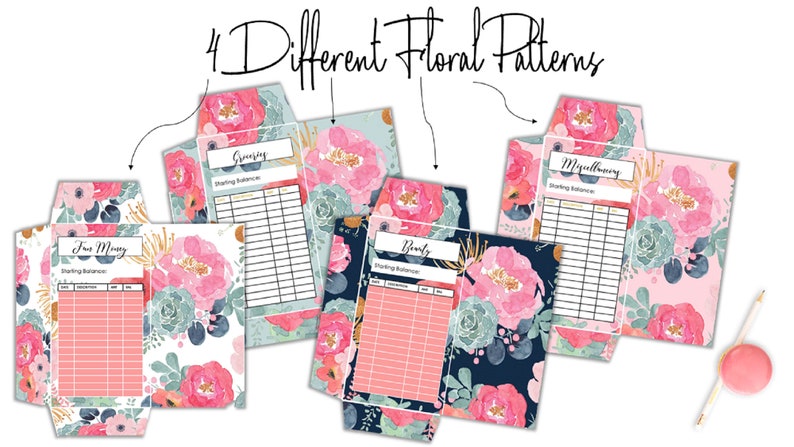 Floral Watercolor Cash Envelopes by Frugalmillennialmom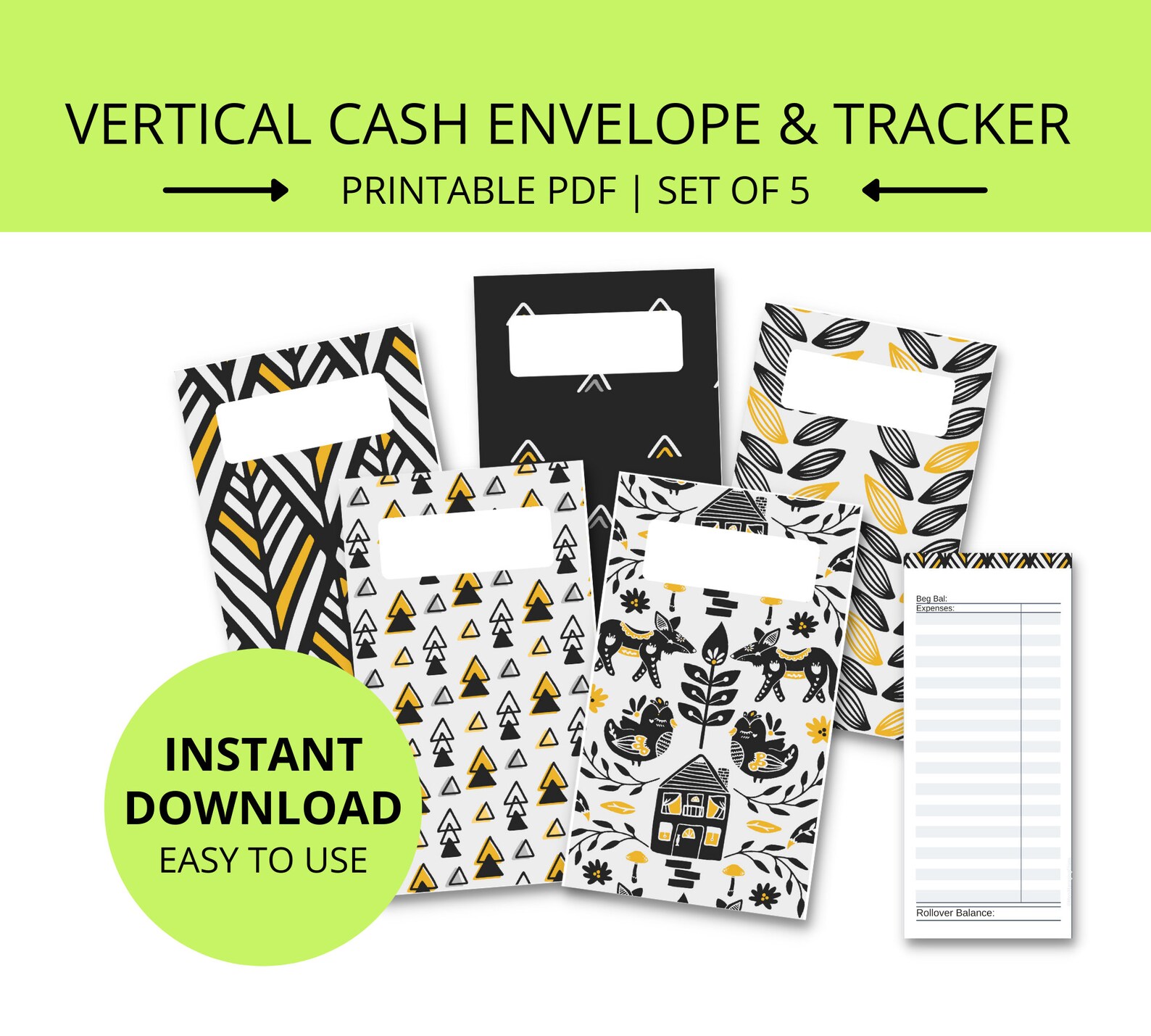 Vertical Cash Envelopes and Cash Envelope Tracker by MomManagingChaos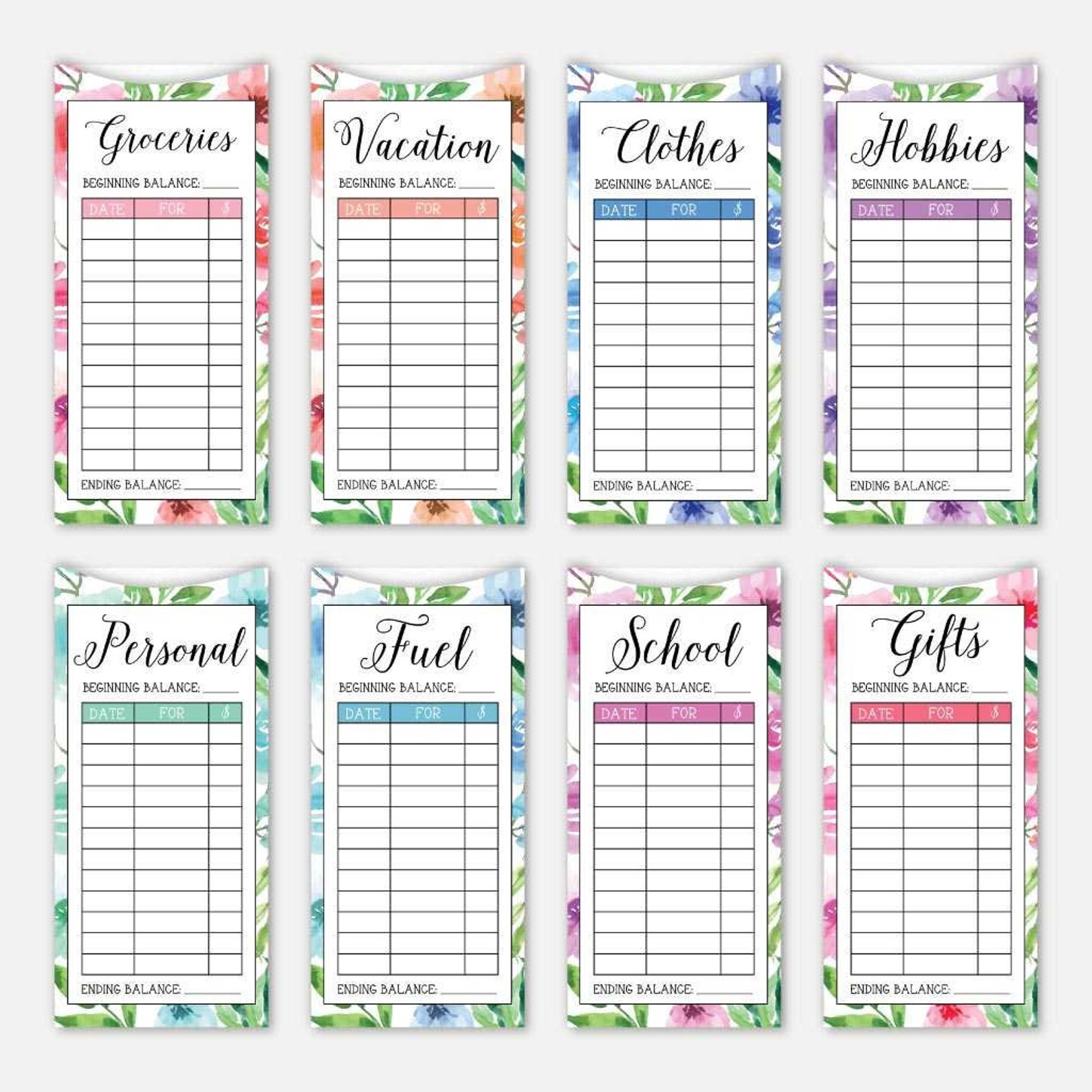 Personalized Vertical Cash Envelopes by ShopHadleyDesigns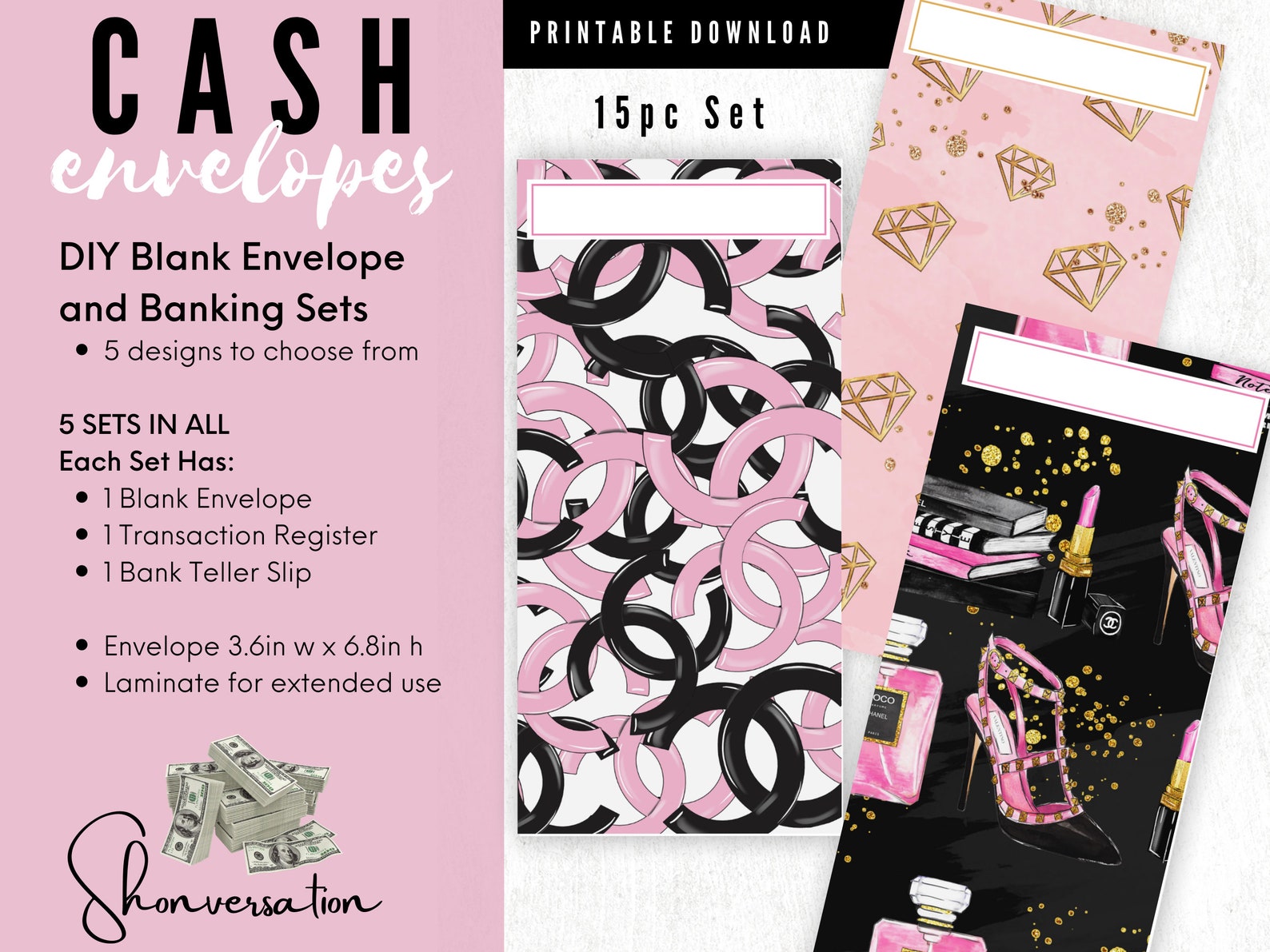 DIY Printable Blank Label Cash Envelope Set by Shonversation
Cash Envelopes Trackers
For any budget, tracking is important, especially with cash budgeting. These envelope trackers are great for keeping track of where you're spending money and how much.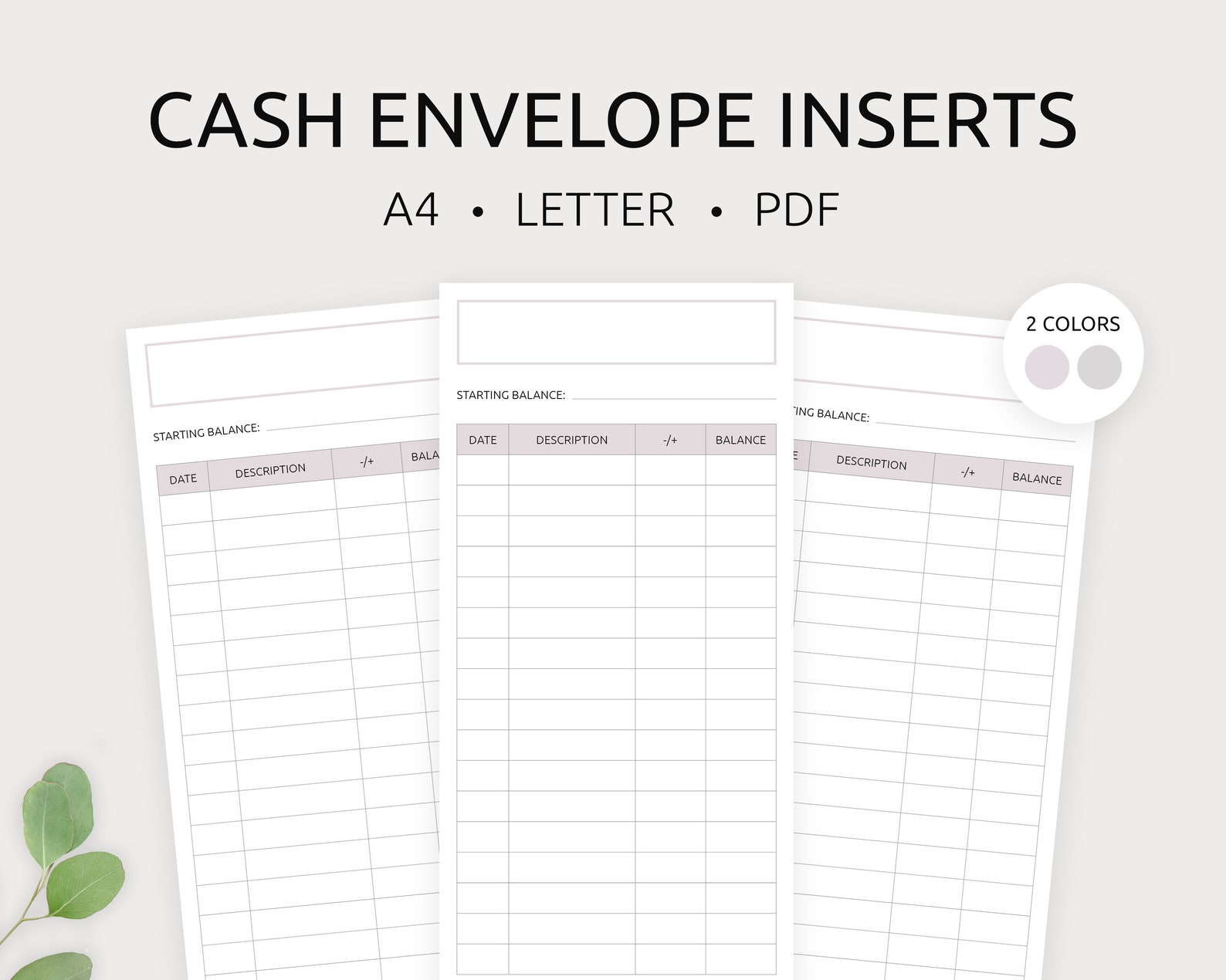 Cash Envelope Tracking Insert Printable by PlanWithMikkel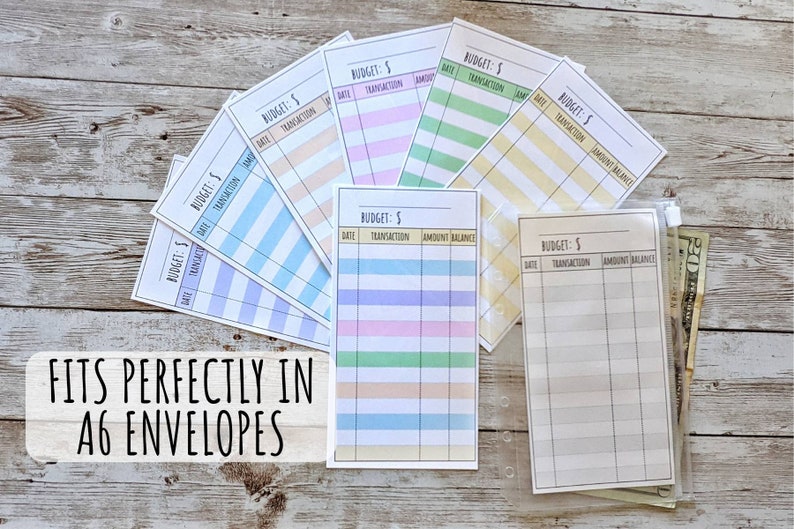 Vertical Cash Envelope Tracker Insert by TheAverageBudget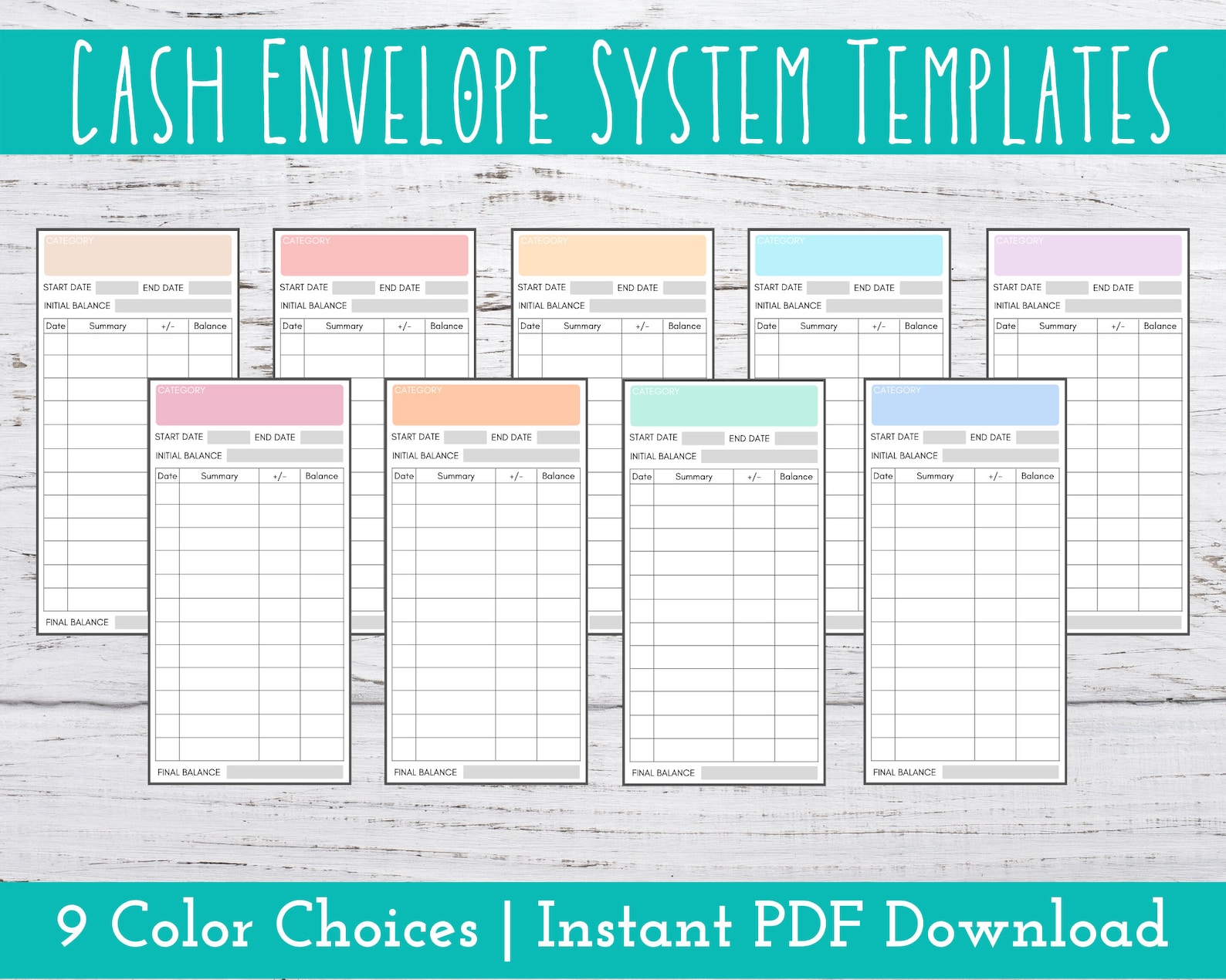 Printable Cash Envelope Inserts by GoodVibesDesignUSA
Tips for Using Cash Envelopes
Print on cardstock
Making your envelopes with cardstock will help make sure they hold up to everyday usage.
You can use white card stock for the pre-designed DIY cash envelopes above or use your favorite color or a patterned card stock to craft your own envelopes.
Create envelopes for your savings goal
When you're determining the envelopes you want in your budgeting system, make sure you factor in your savings goals as well as your expenses.
This will help make sure you don't overspend by failing to plan ahead.
Give yourself some fun money
One extra budgeting envelope you definitely want to have is a fun money envelope.
Reining in your spending can often lead to feelings of deprivation. Instead of forcing yourself to adhere to a strict budget, give yourself some freedom with a little extra cash you can use for anything you want.
Frequently Asked Questions
What do you do if you run out of money in your cash envelope?
If you've made the switch to cash and find yourself running out of money, there are a couple of things you can do.
First, wait until you're paid again and then decide if you need to increase your funding for certain areas.
If you consistently run out of grocery money, you may need to put more in. But if you run out of money due to unusual spending, like for a holiday meal, you may not need to adjust just yet.
The second option is to look for overflow in another envelope to move into whichever one ran out.
For example, if you planned to eat out for a birthday and instead bought groceries to make a meal, you can move the extra cash from the Dining out envelope and add it to your grocery envelope.
Try not to move money around too much. It can dilute your awareness and leave you frustrated with the whole process.
How do you use cash envelopes with a partner?
If you're using cash envelopes with a spouse or significant other, try to set aside time together to talk about what each person's goals are.
It's easy to get caught up in the day-to-day struggles and forget to think about the big picture.
By having this conversation, you'll be able to work together to reach both of your goals.
Also, make sure you're tracking your expenses so you're both aware and accountable for your individual spending.
Can I use a cash envelope to save for an emergency?
It's always a good idea to have some spare cash set aside for emergencies.
By creating a separate cash envelope to hold your emergency fund, you'll not only be prepared but also more aware of how unexpected expenses may affect your budget.
How often should you withdraw cash?
Final Thoughts
Cash envelope budgeting is a great way to take control of your finances.
Use these handy cash envelope templates to organize your monthly expenses and your savings goals so you can better manage your money.
Want to work together?
I would love to help you gain clarity and confidence with your money! If you're ready to stress less, save more, and enjoy your money, click below to learn more about financial coaching.